A SENIOR LIVING COOPERATIVE IN WESTWOOD, MA
Innovative from the start. Evolving every day.
Fox Hill Village opened its doors in 1990, more than 30 years ago with the goal to be distinctly different from other retirement communities in Massachusetts. Our cooperative model sets us apart, but so do Fox Hill's residents who are as friendly as they are intelligent, with vast knowledge and experiences that contribute to the fabric of Fox Hill. As we've worked together and shared in decision-making, we've created an actively evolving, up-to-date and innovative community where residents' needs and preferences always come first.
The last three decades have seen significant changes in lifestyles, health care delivery models, technology and medical advancements, and Fox Hill Village is keeping pace. Our Resident Board of Directors and Executive Management Team are constantly providing our fellow residents with the best living options so we can all continue to make proactive decisions about how we live. It's a concept that resonates with many as our community continues to draw people from both neighboring suburbs and distant states, further adding to the rich diversity of our warm, inclusive community.
We're proud of what we've created here and the innovative, empowering model of services we offer. It's resident-centric, cutting-edge and, we hope, will serve as a model for more cooperative senior living communities throughout the nation.
THE FOX HILL VILLAGE MISSION
The mission of Fox Hill Village is to empower every resident to live with dignity and joy while helping you remain in control of all lifestyle and health care decisions.
Our Core Values
Excellence: We strive to exceed expectations in meeting residents' social, emotional, and health care requirements. This includes being an employer-of-choice to facilitate recruiting and retaining high-quality staff.
Innovation: We continually adapt and take a forward-thinking approach to meeting residents' evolving preferences and needs. Toward this end, we consistently update our programs and facilities to leverage state-of-the-art knowledge and technology.
Respect: We celebrate the inherent value of each individual's culture, experience, wisdom, and perspective. We embrace diversity in all its forms while also cooperatively working toward our common goals.
Resident-Governed: As cooperative shareholders, residents are at the center of everything we do. All Fox Hill residents have equal voting status in electing board members and voting on other key community decisions.
Financial Strength: We strive to serve the needs of the community through financial prudence and long-term planning that protect and enhance the value of resident shareholders' investments.
At Fox Hill, a dedicated, resident-led board of directors works with and an experienced team of managers to guide the community as it serves residents' current needs and evolves for the future. Learn more about the people who make this unique partnership work.
You won't want to miss a thing!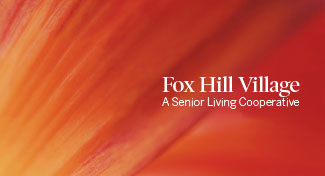 Want to learn more?
Download our viewbook.
Fox Hill's viewbook is another way to learn about life at our distinctive community. And you can download it now, right from your computer or smartphone.
Find a rewarding career.
Plus, great pay and benefits.
When you join the team at Fox Hill Village, you're not just choosing a job. You're choosing a fulfilling career that comes with rewards far beyond the generous pay and benefits.