WELLNESS CENTER FOR RESIDENTS | FOX HILL VILLAGE
Take a proactive approach to your health and wellness.
Health and wellness start with education, prevention, and making good choices that promote overall well-being. That's the philosophy behind Fox Hill's Wellness Center. Designed to support your individual needs and empower you to live well at every stage of your journey, we're here to help when you're a little under the weather, have a minor injury, or need assistance monitoring a chronic condition. We also provide education on positive lifestyle choices, so you'll be inspired and equipped to take charge of your own health — increasing wellness and helping to prevent illness.
"The Wellness Center is such a wonderful resource. Not only do they educate us about how we can improve our health for the long run, but they're also there for us when the occasional bug gets us down."
— Resident
Conveniently located in the Baker West wing, the Wellness Center is open every weekday from 8 a.m. to 4:30 p.m. Residents can usually be seen the same day for acute needs such as an illness or minor injury. Health monitoring assistance is also available for those living with a chronic condition such as high blood pressure, arthritis, or weight control.
The Wellness Center is staffed by an adult/geriatric nurse practitioner, a certified nurse health coach, and a certified medical assistant who are all committed to providing the highest quality evidence-based care and ensuring resident confidentiality. Services provided by the Wellness Center staff are included in residents' monthly fee.
Health & Wellness Services
The Wellness Center offers a variety of individual healthcare services as well as regularly scheduled services to meet needs we know many residents have. These include:
Telehealth room for private telehealth calls with a center nurse present
Health education programs
Regular blood pressure clinics
You won't want to miss a thing!
Living well.
Pursue wellness in all its forms.
Fox Hill is designed to empower your pursuit of wellness in all forms. From state-of-the-art fitness amenities to our educational speaker series and interest groups, you're sure to find your groove.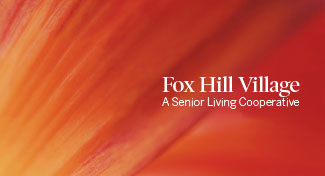 Want to learn more?
Download our viewbook.
Fox Hill's viewbook is another way to learn about life at our distinctive community. And you can download it now, right from your computer or smartphone.
See for yourself.
And engage your other senses, too.
The best way to learn about Fox Hill Village is to experience it for yourself. We invite you to take a personal tour and talk with current residents to get a first-hand perspective.