WHOLE-PERSON WELLNESS | VIBRANT SENIOR LIVING IN NORFOLK COUNTY, MA
Pursue what matters most to you.
At Fox Hill Village in Westwood, MA, living well is about creating time and space in your life for the things you enjoy and value the most. Of course, good health is important, and we offer nearly endless ways to keep your body moving, increase strength and flexibility, improve balance, and stay fit. Research also tells us that wellness includes intellectual, social, emotional, and spiritual dimensions. Here, you'll find myriad ways to expand your life — whether by learning something new, making new friends, engaging in stimulating conversation, or participating in guided meditation classes. Plus, we provide optional Fox Hill 360° coaching that encourages you to identify and pursue your goals, and health education through our Health & Wellness Center. It's a complete approach to overall health that empowers Fox Hill residents to truly live well.
"As we age it's comforting to be in an attractive environment that keeps us young and thriving. Our bodies are nourished with excellent food and strengthened with modern exercise. Our minds are stimulated with activities that encourage us to learn, explore, question and think."
— Sandy, resident
Maximize your total well-being with Fox Hill 360°.
As a Fox Hill resident, you'll have the opportunity participate in our exciting Fox Hill 360° program. This whole-person wellness program uses principles of self-efficacy, self-management, motivational interviewing, appreciative inquiry, and positive psychology to empower participants to embrace well-being in every area of their lives .
Through one-on-one attention and meaningful conversations with our on-site wellness coach, you'll consider how you can stay connected to what's most important to you. You'll also reflect on your overall well-being as it is now and work with your coach to explore ways you can proactively build an active, fulfilling life. Then, through periodic "check-ups," your coach will help you assess how you're doing and any changes you want to make to your plan or your goals.
Build strength and flexibility in our state-of-the-art fitness center.
The light-filled fitness center in our newly completed Baker West wing is a welcoming, uplifting environment for working out and working on your personal wellness goals. Even if you've never used an exercise machine or taken a fitness class, you'll quickly feel at home with a personal trainer available to guide you every step of the way. And to make it even easier, our state-of-the-art HUR "smart" progressive resistance training equipment automatically adjusts to you and your progress, empowering you to reap proven benefits of strength training such as increased longevity and bone mass, fall reduction, and disease management.
If you enjoy group exercise, we also offer a variety of classes for all levels led by highly qualified instructors. Choose from many popular options including cardio, strength, and balance; yoga; tai chi; Zumba Gold®; and Drums Alive®.
Dive into wellness in the aquatic center.
Also located in the Baker West wing, our aquatic center features an indoor heated swimming pool for a refreshing swim no matter the temperature outdoors. Exercise all your muscle groups (and take it easy on your joints) with a lap-swim or an instructor-led class like aqua barre. Get some friends together for a little friendly water volleyball competition. And even bring your grandchildren for a dip and a splash on weekends.
Play a round in any kind of weather.
Fox Hill's indoor golf simulator lets you play a virtual round of golf on hundreds of courses from around the world. Always wanted to play in Scotland or want to revisit your favorite fairway in California? Just choose your course and tee up. You can play alone or challenge your friends. And best of all, the "links" are open rain or shine.
Stay sharp with engaging programs, excursions, and events.
Cognitive health is an important component of whole-person wellness. At Fox Hill Village, you'll enjoy a rich and varied cultural life with a seemingly endless array of lifelong learning classes, game groups, clubs, and committees to lead and participate in. And if you don't find a group that covers your interest, you'll be encouraged to start one. Plus, you'll enjoy planned excursions to myriad cultural events, museums, and shopping destinations, as well as day-long and overnight trips to places of interest. With so many things to learn, do, and explore, your brain won't have time to get bored.
Mind your emotional
well-being, too.
Guided meditation is a popular class at Fox Hill, with an experienced instructor who leads participants in developing mindfulness, balance, and a sense of calm. Often combined with gentle yoga exercises for even more holistic benefits, the class is often held outdoors to take advantage of our beautiful natural surroundings.
Use education and coaching to inspire your healthy choices.
Fox Hill's
Health & Wellness Center
is a go-to resource for health coaching and education. The center's mission combines healthcare services with preventive care, educational programs, and individual health coaching to help you take charge of your own health and well-being.
You won't want to miss a thing!
The call of the wild.
And the cultivated, too.
If you're a fan of fresh air and green spaces, you'll want to see Fox Hill's 110-acre campus. Here you'll find serene woodlands, landscaped gardens, and myriad ways to enjoy the great outdoors.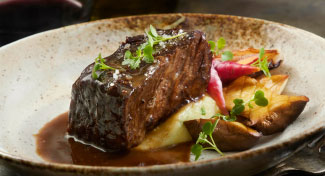 Meals to rave about.
(When your mouth isn't full.)
From mouthwatering, chef-prepared meals and menus that use local seasonal ingredients to inspired homemade desserts and pastries, your toughest choice will be what to order first.